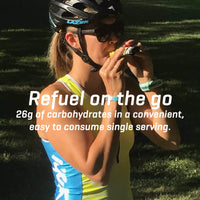 Maximum Performance
A steady release of energy without a spike and crash that high concentrates of simple sugars can cause.
Shop Now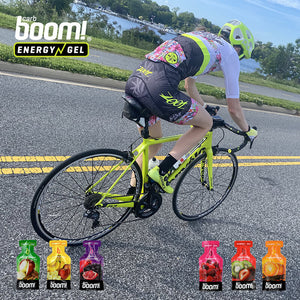 Sarah Karpinski
Sarah competes as a Professional Triathlete. She uses great tasting CarbBoom! energy gels at every race to fuel her body to perform at the highest level.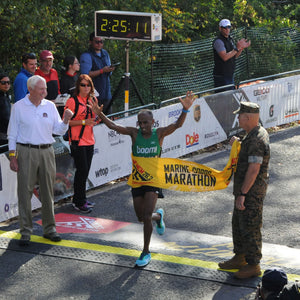 Desta Beriso Morkama
Looking good in his CarbBoom Energy Gel Apple Cinnamon race kit, friend of Boom! and Boom Nutrition Sponsored Athlete Desta Morkama won the 2017 Marine Corps Marathon in Washington DC in a time of 2:25:14. 
"I'm very excited about this," Desta  said. "I worked very hard to win this race."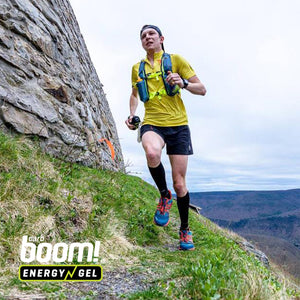 Cole Crosby
Ultra Runner and friend of Boom!, Cole says "Boom gels gave me the boost I needed for a course record-breaking run at the mountainous Hyner View Challenge in Central PA...." 
What a great start to the season of trails.
What our customers have said
I've been using Carboom for the past 12 years during all of my running races including the marathons in 7 Ironman races.  The flavors are great and the energy lift from Carboom is GREAT!

⭐⭐⭐⭐⭐

Henry B
I love the Carb Boom! Gels! I've tried several different energy gels, and Boom! are my favorites. Great flavors and I can definitely tell the difference in my energy level during the big races. I won't run another race without these.

⭐⭐⭐⭐⭐

Erin S.
I am an endurance athlete and use gels often for training and racing. This stuff is so good. It is tart and sweet and the consistency is perfect. This is definitely one of my favorite gels of all time.

⭐⭐⭐⭐⭐

Lori